Navy Wool Show Rug
Navy Wool Show Rug are a great value for money product, this Capriole Equestrian Show rug are made using an economical yet high-quality fabric. The classic and versatile Navy Blue color with white trim make it look brilliant and easy to embroider or customised as trophy rugs. The overall design is intent on making the horse the center of attention!
Navy Wool Show Rug combines appearance and performance. Excellent workmanship, top grade materials and time-tested manufacturing techniques allows this to offer a wide range of features. One of such features is protection. This Capriole Equestrian Show Rug is made of 500 Gsm traditional Navy Melton Wool fabric, which is able to protect the horse from cold weather.
Navy Wool Show Rug makes use of a fabric that has great insulation. It can keep the horse warm and cozy during rainy and cold nights, and cool and breezy during summer seasons. It can even keep flies, midges, and other insects that may cause stress and illnesses away from the horse. This fabric is also able to keep dust away from the horse, which makes this Capriole Equestrian Show Set the perfect horse wear to use after a show.
Navy Wool Show Rug is also made for durability. The wool fabric used on this horse rug thick and fluffy. Using a core spun Poly-cotton thread this horse wear from Capriole Equestrian was meticulously stitched so that it will not come apart for a very long period of time. The technique and the thread also ensure that all parts of the horse rug will stay firmly in place. Only the highest quality metal fittings were used in order to guarantee extra durability.
Navy Wool Show Rug is also designed for comfort. All the materials used for making this show set are light to ensure that the horse will not be stressed in any way. The horse rug is meticulously designed to ensure that the horse's movement will not be hindered and that the horse will stay stress-free even during travels. It is also machine washable, which makes cleaning and maintaining this show rug quite easy. This show set is an ideal summer rug, but can also be used as an under rug or as an additional layer to warm up the horse during extra cold days.
Rug Features:
500 Gsm Navy Melton Fabric.
Bound with a smart white Polyester binding.
Quality metal fittings used for extra durability.
Stitched using a core spun Poly-cotton Thread.
Machine washable.
Capriole Equestrian provides an easy access to an entire range of premium-grade Winter Rugs. Our horse wears are made from high quality fabric and are fitted with premium-grade plastic and metal fittings. These materials were crafted using time-tested manufacturing techniques and advanced manufacturing tools and equipment to ensure only the best for our customers. Apart from durability, each product was designed for the protection and comfort of the horse. Each of our winter horse rugs were also made to so that they are easy to use and take off.
Our extensive range of winter rugs are also available in different sizes, so that we can assure that you can find a product that will perfectly fit your horse. We also have winter rugs in different colors and style that will fit your taste. With Capriole Equestrian, shopping online for premium-grade horse wears and accessories has always been easy.
(EWR)
| | |
| --- | --- |
| SKU | EWR |
| Shipping Weight | 2.0000kg |
Be The First To Review This Product!
Help other Capriole Equestrian users shop smarter by writing reviews for products you have purchased.
We Also Recommend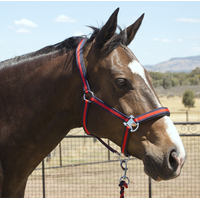 Others Also Bought
More From This Category