Navy Wool Show Set
Navy Wool Show Set is a premium quality horse wear that provides full protection to the horse. This show set comes with a horse show hood and show rug. The show hood that comes with this Capriole Equestrian set is able to cover the horse's muzzle to its back, while the show rug covers the horse's withers to its dock and tail.
Navy Wool Horse Show Set exudes a sense of royalty. Its soft, smooth surface combined with the deep navy blue color looks absolutely regal. Aside from keeping the horse clean, this show set's design allows it to enhance and maintain the appearance of the horse and help it attract the attention of people. In addition to looking great, this Capriole Equestrian product is also designed to protect the horse.
Navy Wool Show Set makes use of 500 Gsm Traditional Navy Melton Wool Fabric that provides great insulation. This premium quality fabric together with the rug's overall design, gives this show set the ability to provide warmth. Thus, it makes the show set also an ideal under rug and hood for adding extra warmth during extra cold days. And since it is able to completely cover the horse's entire body, it can also act as protection against UV rays during sunny winter days.
Navy Wool Horse Show Set is also able to protect the horse against bug bites, which is a common irritant to the horse. Bugs, flies, and midges are also one of the primary sources of infections. Therefore, not only does this show set ensure a stress-free day, but it also helps in ensuring that the horse is healthy. the wool fabric used for this, while it feels dense, also has a soft, smooth surface. This, together with its overall design, makes this Capriole Equestrian horse wear quite comfortable for the horse.
Navy Wool Show Set hood has a generous size, which gives the horse extra freedom of movement, where nothing is hindering it from moving about.
Navy Wool Horse Show Set is not all about comfort, protection, and appearance. What cuts this product above the rest is its durability. The wool fabric used for making this show set does not rip or tear easily. In addition, highest quality metal fittings were also used to add durability to the product. Using top-of-the-line manufacturing equipment and tools, the wool fabric was stitched using a core spun poly-cotton thread to ensure that the show rug and hood will not come apart. The high quality thread and stitching technique also ensures that the product can be usable for a long period of time.
Rug Features:
500 Gsm Navy Melton Fabric.
Bound with a smart white Polyester binding.
Quality metal fittings used for extra durability.
Stitched using a core spun Poly-cotton Thread.
Machine washable.
Capriole Equestrian provides an easy access to an entire range of premium-grade Winter Rugs. Our horse wears are made from high quality fabric and are fitted with premium-grade plastic and metal fittings. These materials were crafted using time-tested manufacturing techniques and advanced manufacturing tools and equipment to ensure only the best for our customers. Apart from durability, each product was designed for the protection and comfort of the horse. Each of our winter horse rugs were also made to so that they are easy to use and take off.
Our extensive range of winter rugs are also available in different sizes, so that we can assure that you can find a product that will perfectly fit your horse. We also have winter rugs in different colors and style that will fit your taste. With Capriole Equestrian, shopping online for premium-grade horse wears and accessories has always been easy.
(EWS)
| | |
| --- | --- |
| SKU | EWS |
| Shipping Weight | 2.0000kg |
Be The First To Review This Product!
Help other Capriole Equestrian users shop smarter by writing reviews for products you have purchased.
We Also Recommend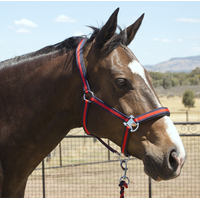 More From This Category