Buying Guides
Sizing.
A general guide for measuring your horse for a rug is to measure from the center of the horse's chest in a straight line around the horse's body to a point that is in line with the top of the tail, as per depicted in the photo.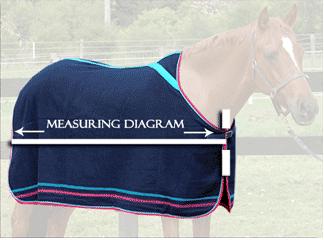 Capriole rugs and acessories are avaliable in the following sizes:
RUG - 6'9" TO 3'9".
HOOD - Full Size, Cob, Large Pony, Small Pony & Fine Pony.
NNECK - Full Size, Large Pony & Small Pony.
TAILBAG - Full Size, Cob & Pony.